Redesign of the ShopKeep Hardware page with a brand-forward message. Allow users to discover hardware that works for their unique business needs. Showcase ShopKeep's versatility and emphasis on choice. Emphasize ShopKeep's promise of flexibility - 

ShopKeep is not one-size-fits-all by design

.
I worked with our Brand Director and Senior Copywriter to create a hardware page that allows users to create their own hardware setup, based on their business type. I collaborated with Product and Sales to identify a simplified hardware suite that allows for choice, without overwhelming the user with options. 
The final product was a simple build-your-own hardware experience. In lieu of spending the time and engineering budget on a true checkout experience, we created a simple form that submitted the user's information to Salesforce. SDR's and Account Executives were then able to verify this information with customers when completing a sale. 
Lead UX & Visual Designer

I created a flowchart to depict the user's journey across the hardware selection experience. Despite simplifying our hardware lineup immensely leading up to this project, the flow was still relatively complicated to account for device size and compatibility. 

In the revised flow we removed the choice to select iPad size. This detail had added the complication of selecting different stand sizes, which didn't add much value for the user. Removing it made the experience less cluttered and more straightforward.
The hardware options displayed are dynamic based on what business type the user chooses.
 At launch our Android app hadn't yet reached parity for certain Restaurant-focused features, so we only showed them the iPad option. 
Additionally, we limited which items would be displayed based on each business type's needs to narrow the focus on the business owners' needs. Restauranteurs won't see the option to add a barcode scanner - and Retailers won't see the option to add a kitchen printer.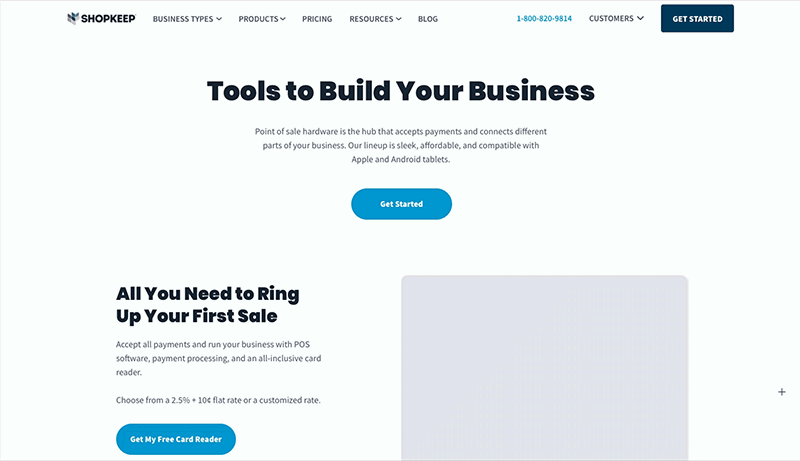 I created wireframes and prototypes for review with the team. While we originally wanted the submission to be a simple contact form at the bottom of the page, our Sales process required that we collect more information. In the final design, you can see that after clicking 'Finish Building My Setup," the sitewide lead form is displayed - asking a few more questions about the user's business before submitting contact information. While we would have liked to keep the experience shorter and more concise, we had to modify our approach to include the additional lead form questions.
The users' full hardware selection, information, and contact info was then routed to the Sales team to begin their process.
I created the final visual design, adding imagery from our new Brand Guidelines.
I collaborated with Engineering to ensure every part of the experience was pixel perfect during launch.`
 Two months after launch, we saw an 

80% increase

in Pageview to Lead conversion.